VDO 1381 2.0 DTCO DIGITAL TACHOGRAPH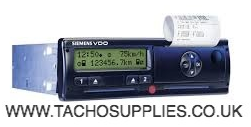 Intelligent help during work day: The new DTCO® 2.0 ease the life of fleet operators as well as drivers. In addition to approved functions VDO has integrated extensive innovations, which supports you at saving cots, optimise routes and use working time more effective.
The most important innovations at a glance:
More Overview: The VDO Counter
The integrated VDO Counter offers the driver by request a quick overview about his current driving and rest times. So it supports by daily planing of routes and driving and rest times. More
More effective Driving Time: The 1 Minute Rule
Use consequently the benefits from the 1 Minute Rule. Save withit precious minutes in distribution operation, in traffic jams or turnover on resting places and extent the driving time. More
More comfort: The Remote Download
The legal download of driver card and mass memory data will be done complete automatically via GPRS or WLAN, without inserted company card inside the vehicle. More
More Future: ITS ready
In the traffic of tommorrow, driver, fleets and other traffic participants will be connected by electronics. The DTCO® 2.0 is ready for this by today, as it offers first services and a safe basis for future fleetmanagement. More
More protection: Tampering
The DTCO® 2.0 uses beside the speed signal a second independent motion signal (IMS). Beyond that it recognises and corrects via the new speed sensor(KITAS II+) external interferences and so its protects the interface between vehicle and signal sender against manipulations.
CLICK ON LINKS BELOW FOR FREE PDF DOWNLOAD
VDO 1381 2.0 TACHOGRAPH DATA SHEET
VDO 1381 2.0 DTCO DIGITAL TACHOGRAPH HEAD